Last weeks Internet finds somewhat related to growing, food chain innovation, sustainable agriculture, urban gardening, climate and other topics of interest.
Berlin is known for its focus on green spaces in the urban landscape, and has more that 71,000 allotment plots (Schrebergärten) spread over 890 settlements, often alongside busy railway lines or motorways. These allotment plots are increasingly under pressure as the developers and local government eye in on the area used for the gardens as a potential solution for the current housing crisis. It seems somewhat ironic that Berlin, which has a reputation for being in the forefront on planning for urban green spaces should be abolishing their gardens at the same time as other cities try to copy their success as 'green city' .
In UK an amateur gardener has inspired thousands after posting pictures of his wildflower meadow.  Sports therapist Peter Thain (@evening_gardener) ripped out his front lawn and replaced it with a flower meadow. I do hope this inspires many, many others. Just look how great the meadows looks compared to the sad front lawn he had before!
Amateur gardener rips up lawn and creates wildflower meadow outside his front door
A campain by Plantlife in the UK to let grass verges become mini medows has also resulted roadside meadows popping up in city centers across the UK.  Besides, being a delight for the people passing them, making the bumblebees happy it also saves moving costs for the local councils. What's not to like about this? How can we make others take inspiration from this?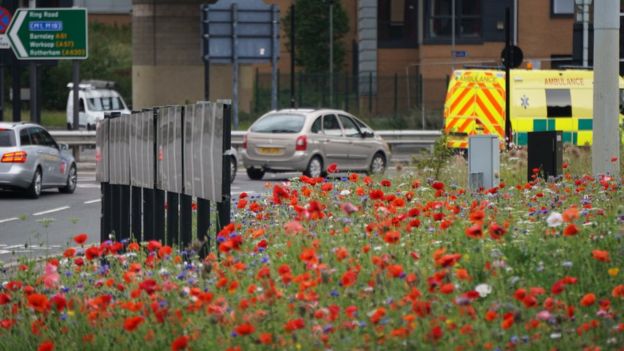 In Florida, a couple just won the right to grow vegetables in their front lawn after a 6 years fight with the municipality. The couple were instructed to destroy their garden six years ago and were threatened with a $50 fine for every day the garden remained. However, thanks to a new law that went effect on July 1, people in Florida are able to plant fruit and vegetables in their front lawn.  Sounds crazy right? Amazingly, Florida is not the only US municipality that bans vegetables from front lawns.
The bees has created a buzz on the news last week. Not only where two tourists attacked by a large swarm of angry bees in France, a cricket world cup match also came to a halt due to a large swarm of bees.  But, don't make this fool you into thinking that the bees are back, it just the time of the year when the bees are swarming.
See also: