The digital gardener is ready to help you plan what to grow, as well as when, where and how to grow it.
Grow an abundance of tasty food with overview and confidence
Get help choosing crops that are easy to grow where you live, and what you need to do to make your plants thrive.

For homesteaders and experienced growers
Plan your garden,  and keep an overview of your dates for nursery, field and harvest. Keep notes and get reminders on your mobile. 
For commercial growers, market gardens and CSAs
Plan what crops should be ready to deliver to the marked throughout the season. Keep a full overview of current status and work to be done.
Plant Library
Browse and compare crop varieties suitable for growing in your area.

Crop planning
Plan what to grow, where and how to grow it. Plan your dates for nursery, field and harvest.
Market planning Pro
Make a sales forecast, and plan what crops should be ready for the market throughout the season.
Task manager
Keep track of upcoming tasks and receive reminders if you worry you might forget something.

Garden diary
Use your mobile to keep notes and upload images from your garden.
Seed calculator
Calculate the amount of seeds needed.
Experience sharing Pro
Learn from what other growers in your region are growing.
Mobile
The digital gardener is available in your browser as well as on iPhone and Android.
Search and find crops and varieties suitable for growing where you live
See what varieties are popular among other growers
Find advice on how to precultivate, transplant and harvest different types of crops.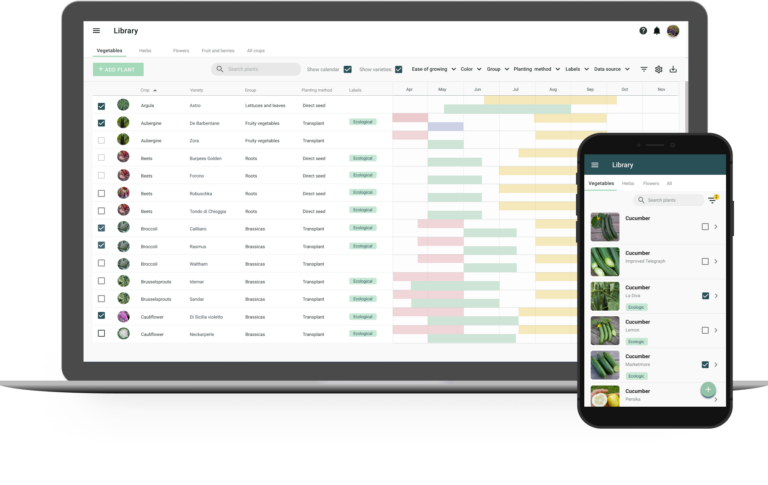 Plan for continuous access to fresh vegetables througout the growing season
Adjust amounts according the number of people you plan to feed
Plan for precultivation, transplants and harvest
Keep track of all tasks to be done in the garden
Generate tasks automatically from your crop plan
Add actual yield and other types experience data
Add notes and images from the garden. Learn, and be inspired, by other growers.
Get in touch if you have questions or suggestions, or sign up to get notified when we are ready to launch.